Compressed Air Audit and Maintenance
Compressed air, commonly referred to as the 4th utility, is an expensive and inefficient part of the production process. For every 8 horsepower of electricity consumed, only 1 horsepower of work is produced. According to the U.S. Department of Energy, compressed air represents about 10% of the electricity use in the United States. Although compressed air is inefficient, it is vital across industries and remains as the safest and best way to store and use energy. Much can be done to control and reduce compressed air wastage. Creating an efficient compressed air system should be a top priority. In our experience, 15-35% can be saved by performing an air compressor audit.
Pattons certified audit team is experienced in performing assessments on compressed air systems of all sizes and types. We have auditors on staff with the following certifications:
Certified U.S. Department of Energy AIRMaster+ Specialist
CAGI Certified Compressed Air System Specialist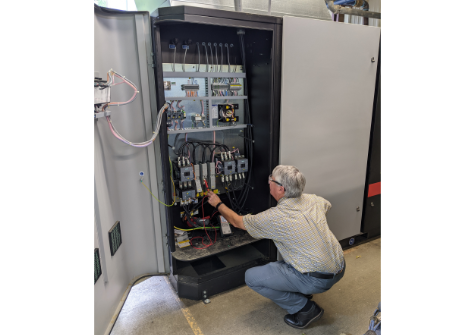 All of our audits are performed according to the principles and guidelines put in place by the Compressed Air Challenge and the U.S. Department of Energy.

Our goal for performing compressed air audits is to provide accurate results to save our clients thousands of dollars a year as well as to assist plant personnel with critical information for the decisions pertaining to future growth and efficiency. To provide a full scope of this information, we recommend the following process:
Baseline Audit – This provides a baseline to measure the actual performance and efficiency improvement measures implemented throughout the process

Demand Side Audit – A qualified auditor will spend time in the facility, evaluating your process and compressed air usage to determine if there are any alternate methods which will perform equally with less or no consumption of compressed air. We will also look for poor practices and means of reducing pressure drops.

Compressed Air Leak Study – Using ultrasonic leak detection, our auditor and service team will find and tag compressed air leaks in your facility. Leaks will be categorized by intensity and prioritized. There may be energy provider rebates for performing this study which will help or fully cover the cost of this service.

Supply Side Audit – Once the demand side recommendations have been completed, and the leaks have been repaired, we will perform a Supply Side Air Audit similar to what we did in Step 1. Our focus will change slightly as we will tune in on the compressor room and how efficiently you are generating compressed air based on your reduced demand. Product neutral recommendations will be prepared with return on investment on each recommendation.

Implement Recommendations – Changes are made to supply side system by Pattons or your chosen service provider.

Verification Audit – This is a very simple audit showing the new lower energy cost, flows, pressures and any other relevant data to verify the recommendations as long as the solutions implemented follow the guidelines proposed. This data is also collected for energy providers in order to issue the customer incentive rebates, if applicable.
The importance of auditing beyond the compressor room :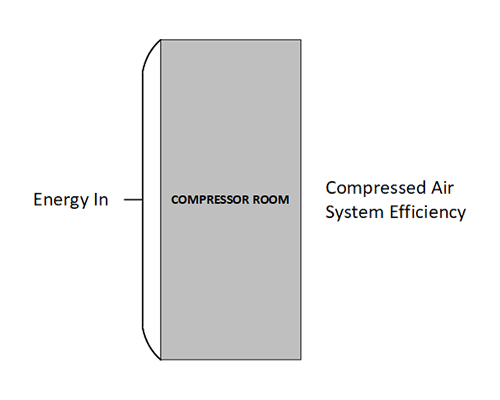 If you do not do anything, you could be missing out on adding dollars to your bottom line.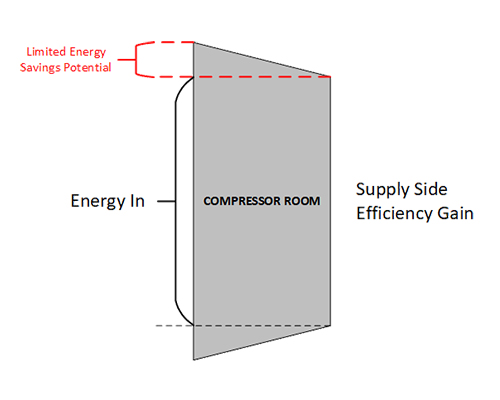 Although performing a simple "Supply Side Audit" is better than ignoring the costs of generating your compressed air, looking only in the compressor room limits the amount of inefficiencies you can identify, thus limiting the potential savings you can achieve.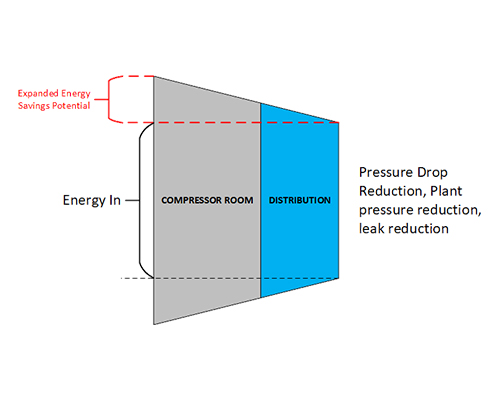 Pressure drop across a facility means the compressors must provide higher pressure compressed air to satisfy the end use, this increases the amount of energy consumed by the compressor by a 1% for every 2 psig increase in pressure. This can be done through looping the system, increasing piping size, or sizing point of use storage for intermittent large demands.
Leaks can be a significant percentage of the overall demand. Performing a leaks study can drastically reduce baseload demands.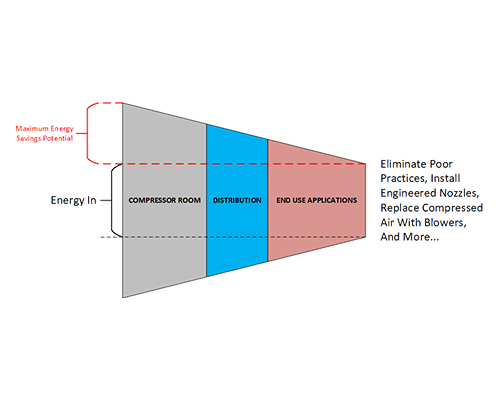 Reducing or even eliminating compressed air demand at the end use can drastically reduce the size of the equipment in the compressor room and will lead to maximum energy savings when looking at the entire system.
Contact us to request more information on compressed air audits or to schedule a visit.