Infinity and Elevation Piping
COMPRESSED AIR ALUMINIUM PIPING
By choosing Pattons. Infinity or Elevation Piping Systems, you're guaranteed a zero plastic piping system. Made with 100% metal, it's the most cost effective system available. Our non-corrosive push to connect or grooved connect systems are fully tested to ANSI B31.1 and are the most advanced systems available. Compared to your standard piping systems, Pattons. Infinity & Elevation Piping provides aesthetically superior leak free system that includes a Lifetime Warranty.
Select your color tubing to distinguish between gases; blue for compressed air, grey for vacuum, black for inert-gases and green for nitrogen specific installations.
Contact Pattons. by phone or email for a free complete analysis of your current piping system. In the market for a new or updated piping system? We'll design an efficient system that will be affordable, reliable and provide you with the best performance available. We'll be able to provide a complete system for your needs installed by a highly trained Pattons. technician.
½" to 10" diameters – widest breadth in the industry
Straight line flow rates up to 36,000 CFM
Simple and rapid installation and modification
Minimal tooling required-tube cutter and deburring tool
4°F to +176°F working temperatures
220psi safe working pressure @ max working temperature
High flow rates & low pressure losses through smooth bore tubing
All metal fittings – NO PLASTIC
​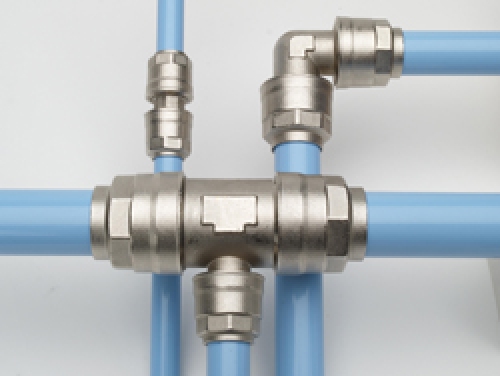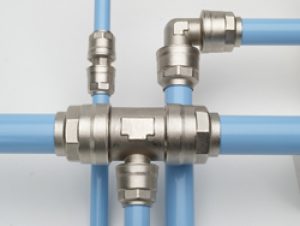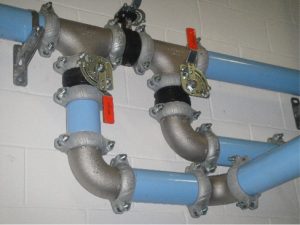 Quick-Fit 14mm (½")
Infinity 20mm – 63mm (¾" – 2 ½")
Elevation 70mm – 273mm (2 ½" – 10")
REQUEST A QUOTE
Engineered for light commercial installations and OEM machine applications.
Engineered for light commercial installations and OEM machine applications.From simple home garage users to hi-tech machine builders and conveyor manufactures, Quick-Fit meets every need. The unique features of Quick-Fit are its light weight marine grade aluminum tubing which will never corrode and its solid brass nickel plated fittings. When the two components are combined you achieve an unparalleled quality that is not found in any other piping system. Installation of Quick-Fit is literally seconds and requires nothing more than a simple tube cutter and deburring tool for even the most complex installation. Cut, deburr and push together!
Quick-Fit truly is in a master class of its own, the highest quality, the most durable and all at an affordable cost.
Instant push-connect design
Guaranteed leak free
Strong/durable metal system
Non-corrosive components
Simple and fast installation
Unique flexibility
Industrial & Commercial Installations
Infinity piping offers the performance of heavy, traditional steel piping, at the cost of systems using plastic. Its revolutionary lock-and-seal design ensures a totally safe, leak-free system for all compressed air, vacuum and inert gas applications. The solid brass, nickel-plated fittings make the system easy to use and install. Infinity's powder-coated aluminum pipes are so light that they can be handled and installed by one person. There's no welding, gluing or threading; a simple pipe cutter and de-burring tool are the only tools required.
With six different piping sizes, Infinity is a sure fit for virtually any industrial and OEM application!
Leak-Free connectors provide an immediate, unbreakable seal
Lightweight piping remains unaffected by contaminants in the air
Fittings can be disconnected and reconnected for reuse
For Large Volume Compressed Air Users
levation provides the superior performance you need and demand from your air system with room to spare. Elevation is engineered to handle high volumes of compressed air. Simple to install, less than one tenth the weight of a conventional steel piping installation, Elevation will save time and money. Reducing installation labor while providing a rock solid leak-free system.
Corrosion resistant, Elevation is made of marine–grade aluminum, lowering energy costs and requires zero maintenance. Versatile, Elevation can be used for compressed air, inert gases and vacuum systems alike.
We back our systems with an industry-leading 10 year leak-free guarantee, making Elevation the clear choice for any user.
Lightest product on the market
Zero contamination due to corrosion
Leak free means energy savings
Market leading and accepted design
High volume flow performance through smooth bore tube
Color coded Blue for compressed air, also available in Black and Gray
Fully tested and code approved
Fill the form below for our sales expert to contact you to discuss about your requirement. We respect your privacy and will not share your personal information with others.